South Florida Relationship Counselor Riana Milne
South Florida Relationship Counselor Rianna Milne's profile for StayMarriedFlorida.com.
Riana Milne, Global Certified Life & Relationship Coach; Cert Clinical Trauma Professional; Couples Counselor
Riana Milne, LMHC, CCTP, CAP, SAC
Riana Milne, LMHC, CCTP, CAP, SAC
Phone: (201) 281-7887
Skype: coachrianamilne
Website: www.RianaMilne.com
Email: rianamilne@gmail.com
ABOUT RIANA:
Do you understand how your past defines your present? Even mildly traumatic events can shape your story. Riana Milne, a certified global Life, Dating, and Relationship Coach, a #1 Best Selling author and expert on dealing with trauma helps one overcome a fearful negative mindset to tap into their personal power and positive, conscious mindset for success in both life and love relationships. With close to 90% of adults experiencing adverse childhood events, Riana clearly explains how Emotional Triggers from the past clearly influence our reactions and behaviors as adults, often sabotaging self-confidence and happiness in all life areas. She believes that we all come from an element of childhood trauma, and how we handle that is vital to our relationships.
Riana's credentials include Life & Dating Coach for the new Docu-Series Radical Dating - Finding Lasting Love Over 40; host of her former TV show Lessons in Life & Love, an educational speaker and #1 Best Selling Author in the Categories of Couples Therapy and Women & Spirituality. She has been a newspaper Advice Columnist for over 25 newspapers (My Relationship Coach) and has appeared on every major network, as well as written for top websites like Digital Romance, Your Tango, and eHarmony. Riana has been in private practice since 2000 at her company, Therapy by the Sea in Delray Beach, Florida.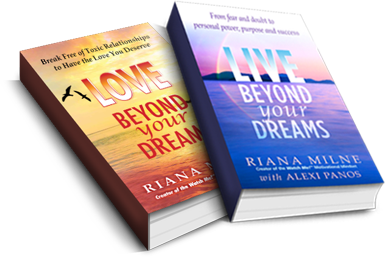 Her website, RianaMilne.com and free app (My Relationship Coach) offers many videos and articles. Her 5-star rated books, and the #1 Bestseller, LOVE Beyond Your Dreams - Break Free of Toxic Relationships and Have the Love You Deserve - and - LIVE Beyond Your Dreams - from Fear and Doubt to Personal Power, Purpose, and Success, address life transitions, personal transformation, and relationships with yourself and others.
Riana loves helping her clients to break toxic behavior patterns and holistically decrease anxiety and depression while increasing self-esteem and confidence. Singles learn the exact skills to be successful in attracting and keeping an emotionally healthy, evolved, and conscious partner. Couples go from toxic to terrific by learning communication and other skills to increase love, trust, fun, and intimacy. Riana has VIP clients and offers online virtual group coaching for singles and couples at the LifeandLoveTrainingAcademy.com.
Riana offers a free Couples Life & Love Transformation Strategy Session (a $1,000 value) - Just apply at www.RianaMilne.com (Both must attend -- This one-hour meeting is held on Zoom; offer open to couples globally).